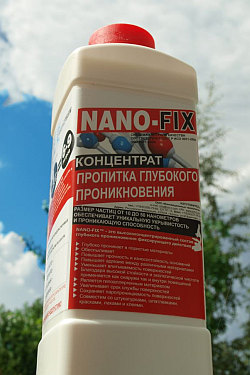 The applications nano-impregnation NANO-FIX™ are screed, floors, walls, ceilings, any other elements of buildings, constructions and architectural forms of concrete, foam and gas concrete, cement, gypsum, drywall, brick, natural stone, other mineral materials and wood.
Nano-impregnation NANO-FIX™ is used for:
indoor and outdoor use;
dust-removing, consolidation and improving the surface hardness of the foundations of various porous and micro porous materials: concrete and screed floors, slabs, foam-concrete and gas-concrete blocks, cement and gypsum plaster and putties, drywall, fiberboard, chipboard, brick, wood, etc.;
to improve the adhesion between materials and their combination: concrete, cement, drywall, fiberboard, chipboard, brick, wood, cement and gypsum plasters and putties, various paints, tile and wallpaper glues;
to reduce the consumption of putties, glues and paints;
the preparation of concrete and cement-sand foundations for laying tiles, parquet, laminate, linoleum or fitted carpet;
to prepare the base before applying decorative and structural plasters;
to align the absorbency of the surfaces before painting;
to use in high sanitary, environmental and fire requirements areas: food and pharmaceutical production, medical and children's institutions, objects of increased fire and explosion hazard.